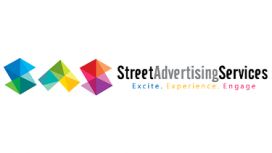 We're a team of exceptional street artists, creative technologists and experiential advertising people, delivering jaw-dropping brand experiences for brand owners and agencies. Let us create unforgettable brand experiences through the creation of art or and technology experiences for your street advertising, PR stunts or live events, and you'll see the power of truly creative advertising at work for you.
Founded in 2006, Street Advertising Services was the first company in Europe to offer "reverse graffiti" as a genuine branding and media tool. After creating hundreds of successful campaigns and placing thousands of adverts, we expanded our team of talented artists and team to offer you even more ways to deliver an unforgettable brand message with a difference.
We're the most experienced provider of non-traditional outdoor advertising in the UK and Europe, offering a complete solution for promoting your brand in public spaces. Street Advertising Services has created graffiti adverts on the side of buildings, and painted and chalked dozens of pieces of 3D street art across the world for clients from Nike to Gillette and M&C Saatchi to Euro RSCG.
Testimonials
Street Advertising Services have been helping us deliver excellent events for Roche since 2009, they are a Great creative team who are very accommodating to our needs and timings.
3d Street Art Goes Supersonic
The 3d floor art was fantastic. We got so many good pictures of the public interacting with the artwork. Again the guys were lovely and really made an effort with the visitors to the show. I don't think the majority of the visitors had seen anything quite like it so it went down very well, thank you!
The winning picture received lots of retweets and the campaign received the highest levels of social media interaction we have ever achieved. We plan to take the floor art to our major offices in the New Year as well as externally (universities, eco shows, schools etc). The 3d street art event went brilliantly but the best thing is we weren't chasing people to tell them about the campaign or look like we were selling something. The artwork is so awesome and the subject so lends itself to the 3D pavement art format that we had so much interest - interestingly a lot of younger people in their late teens or 20s were v interested in being photographed on it and we wouldn't usually engage with that audience and what a nice team of people you have too! Thank you so much for an amazing experience!
Crown BioScience Trade Stand Marketing, Amsterdam
You want to stand out from the crowd and make an impact? Then Street Advertising Services are the team to help you. The whole team were incredibly helpful from start to finish on the project. Not just creating the artwork but providing support and advice as to how best to present the artwork and actually helping drive booth traffic on site during the conference. Very professional throughout the whole engagement, but also fun and a pleasure to work with. I wouldn't hesitate recommending them. Top draw!
Street Advertising Services went above and beyond our expectations when creating our 3D artwork. The dedicated team were extremely helpful and accommodating throughout the design process and the management on the campaign day was superb. The team created our brief within budget, on time and with energy and enthusiasm, it doesn't get much better than that!
Street Art Services have been great to work with, always friendly and on hand to help. The art work was fantastic and they handled the install by themselves. We issued a few last minute changes which were dealt with immediately. We have been really impressed with both the work and employees, and would definitely use them again! Highly recommended.
Thoroughly professional and superbly creative, I would have no hesitation in recommending Street Advertising Services to anyone. For me, they took on a challenging 3d street art concept and transformed it into something truly magical and breathtaking. An exceptionally talented team and a joy to work with.
Just wanted to pass on a massive 'thank you' to you and your team on behalf of our clients, for the amazing job you did with the coffee break activity. Kirsten said that the clients gave excellent feedback and as such are keen to use the activity for other meetings & events, which is great news for us all! Finally, I just wanted to say thanks for all your patience and professionalism, it's been a real pleasure working with you
Commercial Product Manager
We we're very impressed and extremely satisfied with the great service we received from Street Advertising Services. The 3D picture generated huge interest and helped bring our display to life and proved to be the real focal point of our campaign
We commissioned Kristian and Street Advertising Services to produce and install a large floor and wall 3d Street Art piece to showcase a new international sponsorship between 2 clients of our agency. With a very tight deadline in terms of lead time I thought the team under Kristian were great. Everything that we requested was delivered on time and on budget and the client was over the moon with the finished product. I would recommend them to anyone of my colleagues and contacts in the future.
Fantastic job! We love the artwork, well done and thanks for doing it in such a short timeframe!
Carlos: Social Media Director
SAS are a truly professional and highly impressive outdoor agency. They delivered an outstanding campaign for our client Microsoft, in both the UK and US and they were able to give excellent advice and guidance throughout the whole project. We hope to work with SAS again in the very near future
Awesome job! Thanks Guys for a brilliant day! We loved the 3d art you created and the response has been brilliant! Over 500 people interacting and downloading their picture from our website page along with thousands of people seeing us on the day and it's done a great job for raising brand awareness. On top of that, we have had photos and mentions in the trade press and some serious interest from several potential franchisees. Very happy and great return on our investment, thanks a lot!
Director Events Management
Another great job done SAS! Our client was very pleased and there were lots of great comments flying around re the campaign, Thanks Kristian!
Muller Yogurts PR Campaign
Muller Yogurts PR Campaign, -
We used SAS to create a large scale 3D art installation to support the Muller Wunderful stuff campaign. From the outset, Kristian and his team were an absolute pleasure to work with - demonstrating tremendous passion for the activity and what could be achieved. They provided an excellent service, repeatedly going above and beyond to ensure the success of the campaign - no matter what challenges were faced, they were able to deliver effective solutions with fantastic results. We would highly recommend using them!
I certainly would be more than happy to commission Street Advertising Services again. You worked responsively and flexible to accommodate the needs of the campaign and the highways organisation. Great stuff!
I would have no hesitation in recommending Street Advertising Services and their 3d Street Art product for PR and events. They are thoroughly professional in every way. Not only did Kristian listen to all our concerns (which were all totally unjustified in the end). They pulled out all the stops when we had a really tight deadline. The end result was even better than we had hoped for and the event was a real success. I would definitely work with Kristian and his team again
Working with Street Advertising Services has been an absolute joy. Not only have they delivered above and beyond the required project but they have been crucial in allowing us to develop and sell new, creative and exciting ideas to our clients
Central Bedfordshire College
Central Bedfordshire College, -
With a very short notice period 'Street Advertising Services' were able to accommodate our organisations needs with a great deal of professionalism and enthusiasm. I would highly recommend 'Street Advertising Services' with there high impact advertisements, level of service and standard of customer care. I look forward to working with them again in the future
We loved the effect Street Advertising had on our customers! Our CEO went out to dinner in the evening and all of our customers were talking about seeing the adverts! One of them even got down on his hands and knees and tried to find the projector to see where the advert was coming from! Thanks SAS for helping us create a huge buzz around our company on this important day
We loved the effect Street Advertising had on our customers! Our CEO went out to dinner in the evening and all of our customers were talking about seeing the adverts! One of them even got down on his hands and knees and tried to find the projector to see where the advert was coming from! Thanks SAS for helping us create a huge buzz around our company on this important day
The 3D advertising campaign that Wow! organised for one of our college clients went down a storm! We gained extensive local press coverage - people even came to see the 3D 'chasm' with the cutting in their hands; the chasm attracted lots of attention, with 284 photos being taken over the course of a week; about 1000 people visited the accompanying micro site to view the photos; a further 166 viewed them on Flickr. Over 100 people signed up to attend the college open days - a huge success!
SAS shook up Belgium with their street advertising! Using their unique technique not only attracted customers to our branches, ING got loads of free publicity thanks to the creative way of advertising. A first in Belgium! For me SAS stands for a professional, flexible, dedicated, easy-going company, doing everything it takes to meet the customer's needs, at any time, at any place..
Anheuser Busch (Budweiser), -
We used Street Advertising to direct our customers from Picadilly Train Station to our chosen venue for a live music event we were holding. Not only did the adverts look fantastic but a lot of our customers commented on them too. To summarise, SAS were brilliant to work with and we loved the product and will definately use them again for another event
We read a Trend watch article (http://www.springwise.com) about a British company who have found quite a unique technique to display (commercial) messages on the streets in a environmental friendly way. Our thoughts: This is a very interesting, special and new way to present one of the biggest car lease companies in Europe. SAS is still a small company operating throughout the UK. Luckily, they were easily willing to drive to Amsterdam and use their technique on the Zuidas business district area. During one night in December SAS placed several brandmarks saying "No parking, reserved for ING Car Lease clients only". Pictures were taken and the next day all companies surrounding the marked area where mailed a picture of the result and an invitation for doing business together. The next day one of the biggest Marketing weblogs in Holland, Molblog, wrote an article about the night, including pics. After a week a telemarketing campaign started to refer to the street advertising campaign and of course market for Sales purposes. Approximately 100 companies have been called, which led to 10 serious corporate leads! We are very happy with the result of this campaign and enjoyed working with SAS very much. SAS is still a small company, but with huge potential to become very big throughout Europe
We worked with Kristian and his SAS team on a national campaign for Gumtree.com, the local classifieds site. The campaign theme was 'Cut Out the Middle Man', a call to action to encourage home owners to sell their house direct and thereby save thousands that the local estate agent would have banked on commission. SAS travelled across five UK cities in the dead of night to place 60 stencils as doormats outside estate agents. It worked a treat, we got a massive reaction from agents which just proved the campaign had worked! SAS stencils generated fantastic talkabout among the exact audience we were after - homeowners going into estate agents to sell their house! From Day 1 of the brief, the SAS team totally got what we were trying to do, and worked really hard to help ensure the guerilla street campaign was a success. Kristian is a real professional and will go the extra mile at every length to ensure that the activity is a success and the client is 100% happy. All in all, I can't recommend the team highly enough and the street activity was excellent value for money.
Street Advertising Services recently produced a bespoke 32sqm metre 3D art installation, then joined our team on a nationwide University campus roadshow. I highly recommend Street Advertising Services, the whole team were extremely professional, enthusiastic and worked together with our design teams to come up with a creative approach that was perfectly aligned with our clients brand and campaign objectives. We genuinely look forward to working with Street Advertising Services again soon.
Reviews and Ratings
We do not have any reviews about Street Advertising Services available right now.