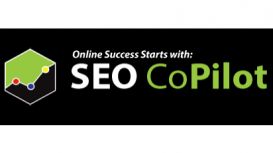 Many modern business owners recognise the essential part that online marketing plays in running a company today. We all want the Internet to be a source of new business, and we've all bought into the dream of "Your business open 24 hours a day", and realised the reality – yes we are open, but no-one is buying.
SEO CoPilot Ltd are here to steer your business towards online success. We have a wealth of experience in modern marketing and we've helped clients improve their acquisition of new business using:
Better results in Google search results from meticulous, precise and practical SEO.
Traffic Conversion with better Web Design.
Higher exposure through social media.
Brand management with graphic design.
Offline awareness and consistent representation through Print and Design.
Services
Looking to get found through your website? We provide Search engine optimisation to get you higher then your competition in the rankings. Get more business with more customers finding your website today!

Social media has greatly affected search engine ranking in recent years and so is an important part of any companies online presence. Not only because it affects your rankings but because it also gives you a platform to talk to your customers. brand your business today and see more potential customers turn into clients today!

Your Website is important, it is your online appearance and will be the turning point for a sale online. However, there is a lot that can improve your website, like SEO integrated designs. Here at SEO CoPilot we work to provide a professional and working website that does more than just sit there and look pretty. If you want to find out more then please visit our website today!

Testimonials
Evoke Hair, Sheffield, South Yorkshire
At Evoke Hair Clinic we had a vision for the type of website we wanted to create and with the help of SEO co-pilot that vision is now a reality. Nothing was too much trouble for Guy and his team, from our initial meeting to the site handover, their commitment was faultless. What impressed me most about the service we received was the team's ability to fully understand the needs of our business and their ongoing support as we grow.

Wakefield, West Yorkshire
The team at SEO CoPilot embody everything I could have hoped for in web design experts – they're friendly, professional and proactive. They are also passionate and knowledgeable about search optimisation – and it shows. They have built a website for my business that looks great, browses easily, and gets seen on Google. What more could I want? In an age where getting your business online in the right way is absolutely key, I have no hesitations in entrusting SEO CoPilot with my online presence in future – and would insist that anyone looking for competitive, comprehensive web design and SEO consultation look no further.

Having suspected that our website was not performing to our expectations we brought in SEO CoPilot for a full review.
Guy quickly identified that our site was indeed lacking and his team have since rebuilt and launched our new website to include optimisation, rebranding and social media. Initially a very daunting task, SEO CoPilot guided us through every step of the way – and it turned out to be a painless, seamless process!
A big thanks to Guy and his team as we are very pleased with the results. It's been a relief to be in safe hands that have put us back on the map and climbing up the rankings.

Reviews and Ratings
Mark Beatson, Chesterfield, Derbyshire
We contacted SEO Copilot to redesign our website as it was dated and lacked any real impact. Our new website is our pride and joy and represents us much better now. Because we chose an SEO specialist to do the work we have found that we also get many more enquiries than we used to, clients tell us how they found us so we know we are ranking for the best search terms to bring us business. Highly recommended, friendly and professional company.
Deborah Sawatzki, Minehead, Somerset
If your looking for a web designer search no more, i have just had my website created by these guys and I just can't thank them enough for such a great service and so helpful and the continued support is wonderful. My website was up and running in no time.