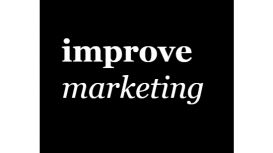 At Improve Marketing we are a team of consultants from many different backgrounds and sectors who share the same values. We all love marketing and making it better. Together we are an incredibly dynamic and powerful team.
With access to a wide range of specialists our goal is to create a bespoke yet cost-effective team that perfectly fits your business requirements. An effective team that have solved issues that affect businesses and marketing teams every day.
Our marketing consultants make sure that we are on top of the latest trends and tactics, providing and deploying the latest and most effective marketing techniques and strategy. We like to stay ahead.
At Improve Marketing we pride ourselves on providing effective, an affordable marketing consultancy. So why not get in touch and let's see what one of our marketing consultants can improve for you.
---
Business Verification Status
Company Type: Ltd Company
Services

There is nothing more interesting than the first steps of developing a marketing strategy for a business. Getting to know the people, the business, its goals, new markets and of course finding out about those pesky competitors. ​
​
Getting over the strategic challenges and creating an effective marketing strategy builds businesses.
Leading or working with your team, the Improve Marketing consultants will study your customer insights and research or help you to develop it and help you to create a structured plan and strategy that achieves your business goals!
​
From strategic marketing communications to brand development and digital marketing strategy, Improve Marketing works to ensure your people, marketing and comms are on strategy and driving growth.

The initial phase of planning media campaigns is to understand our clients business. At Improve Marketing, we immerse ourselves in our clients marketplace through meticulous research, ensuring an understanding of audience, offering, objectives and competitors. We understand the importance of being aware of how a business works and what opportunities we can take advantage of in their sector.
​
​Media planning is an exhaustive process of looking at all of the media options and creating the optimum schedule that will be effective at a particular time and within budget.
​
All of our media planning decisions are backed up with customer data as well as the latest intelligence and analytics on the media channels that we are recommending.
Reviews and Ratings
We do not have any reviews about Improve Marketing available right now.