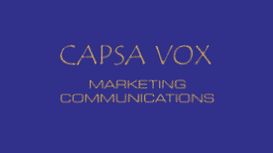 Capsa Vox employs talented individuals with different skills but one passion - making it work for the customer. We have a 20+ strong team of associates who can be called upon at any time to deliver the creative and technical skills necessary to provide the kind of solutions you would expect of us - at the price you would expect to pay.
Jon has been at the cutting edge of B2B marketing for more than 20 years, much of it working in-house, delivering hard-hitting and cost effective communications for world leaders like Hyster, Mitutoyo and First Index. His experience covers a wealth of industrial and commercial products and services ranging from fork lift trucks to e-sourcing solutions. Jon knows how to make budgets work hard and his constant focus is improving sales and profits for organisations.
In recent years, Jon has been involved in publishing and helping to launch online titles. The experience and relationships secured in this work are invaluable to our clients today.
---
Reviews and Ratings
We do not have any reviews about Capsa Vox available right now.